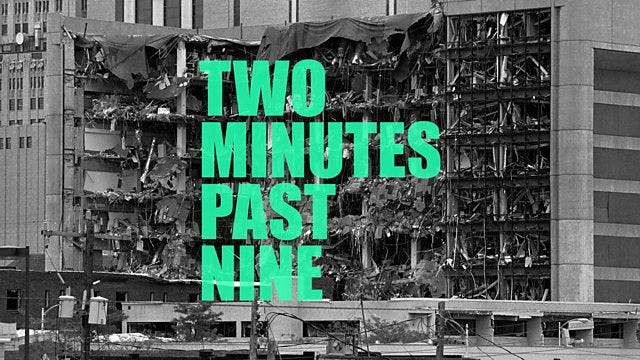 Hey everyone. I've got a new podcast out today that I've been working on since early this year, and I'd love for you to give it a listen. It's called Two Minutes Past Nine, produced by BBC Radio 4's brilliant Georgia Catt. The first five episodes are out now (here's a link to the show on iTunes).
This past April 19 marked 25 years since the Oklahoma City Bombing: the worst act of domestic terrorism in history, which killed 168 people and left nearly 700 people injured. I was 14 years old when it happened, but I still remember the images of the obliterated Alfred P. Murrah Federal Building coming across the television screen in my family's house. All this time later, I write about extremist groups for a living. The bomber, Timothy McVeigh, who unleashed hell on Oklahoma City comes up all the time in my reporting. He's a warning. He's a ghost. He's always there.
When Georgia and I started this project, it was going to be a simple retrospective. But… if you've followed my work for any length of time, you're probably starting to realize I have a knack for making simple projects quite complicated. And when I started digging into the history surrounding what happened in 1995, I kept finding more and more relevance to things happening in America right now.
I hope you'll give the show a listen, and that maybe this podcast can help you get clarity into things happening right now. Or maybe it can help you have a tough conversation with someone you love. I know there's a way forward in America. But I think in order to find that path, we always have to keep an eye on where we came from.